Celebrate 8 Round
It's week two of March Mayhem, Explorers!
This is where it starts to get really fun. Every week we get closer to deciding our champion, the more we learn how our customers prioritize our upcoming features! And the votes are going to get tighter and tighter, so be extra vigilant in voting for the features you want that inside peek on. Tell your teams, networks and colleagues to come vote as well!
Here is our Celebrate 8 bracket: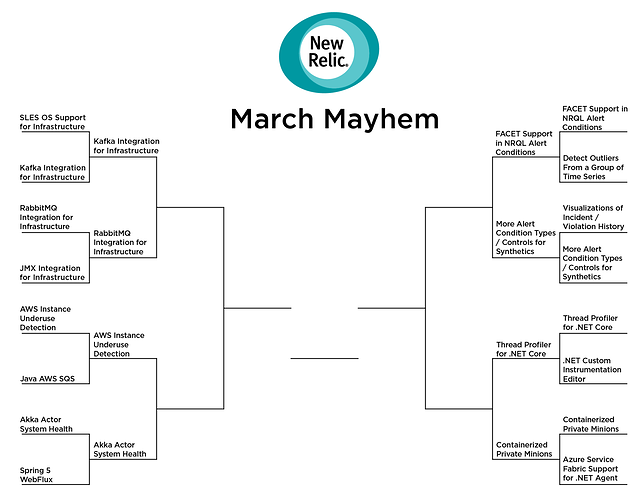 If you need a reminder on which feature will serve what purpose in the New Relic platform, click on the name of the feature for its description.
Happy Voting! and be sure to check in on the brackets that have been submitted! Anyone who guessed 100% correctly before March 12th will get special New Relic SWAG!
Heads up: We're working on a bug in the polls. You might not see your vote reflected in the total vote count immediately, but rest assured that it was recorded. Refresh, and you'll see your vote added to the total. Sorry for any confusion.
Kafka Integration for Infrastructure
RabbitMQ Integration for Infrastructure
---
FACET Support in NRQL Alert Conditions
More Alert Condition Types / Controls for Synthetics
---
AWS Instance underuse Detection
Akka Actor System Health
---
Thread Profiler for .NET Core
Containerized Private Minions
Thanks for voting! Come back next Monday to see how our Last 4 round shakes out!