TL;DR
The "maintenance windows" feature, previously in beta, has gone GA and is now called "monitor downtime." Synthetics users can easily input periods of time when they'd like to pause their monitor alerting so that:
monitors won't impact their uptime / SLA tracking
they won't be alerted during periods of maintenance or scheduled site downtime.
What happened?:
Monitor downtime (formerly a beta feature called "maintenance windows") is now GA.
What does monitor downtime do?:
There are two main use cases for the feature, with a few noteworthy post-scripts. The two main uses are:
Gives user the ability to discount Synthetic monitors from SLA results (monitors won't impact SLAs)
Provides flexibility to control exactly when a Synthetics check will run
Monitor downtime enables you to control or pause your synthetic monitors so they won't impact your SLAs when you're performing normal website tasks, like closing the site for maintenance. They also give you the control you need when you simply don't want to run your synthetic monitors. There are two main themes: 1) SLAs and 2) controlling when you'd like to pause your synthetic monitors.
Why is this valuable?:
Previously, users would have to programmatically, or manually, control a monitor through the API. Also, they would have to start and stop monitors one-by-one. Users no longer have to log on to Synthetics, they simply set up their monitor downtime periods, and apply their logic (frequency / date and time / timezone / start data / etc.) to their monitors.
We've also added timezone support. Example: an IT Ops team is located out of Chicago, but they're responsible for monitoring globally. Using the timezone selector they have access to time zones globally, so when London, Mumbai, or Seattle have upcoming periods of site downtime, the Chicago team can easily select those timezones for fast monitor downtime creation.
Essentially we've made scheduling the pausing of your monitors easier and faster.
A few value points beyond pausing your monitors / alerts:
Easy to use
Familiar interface for Synthetics users
Full time zone support
It's free!!!
Where can I go for more information?:
See technical docs here
Easy to use:
All you need to do is click on "Monitor Downtime," input your selections (time of day, frequency, timezone, when alert will end, etc.) and save.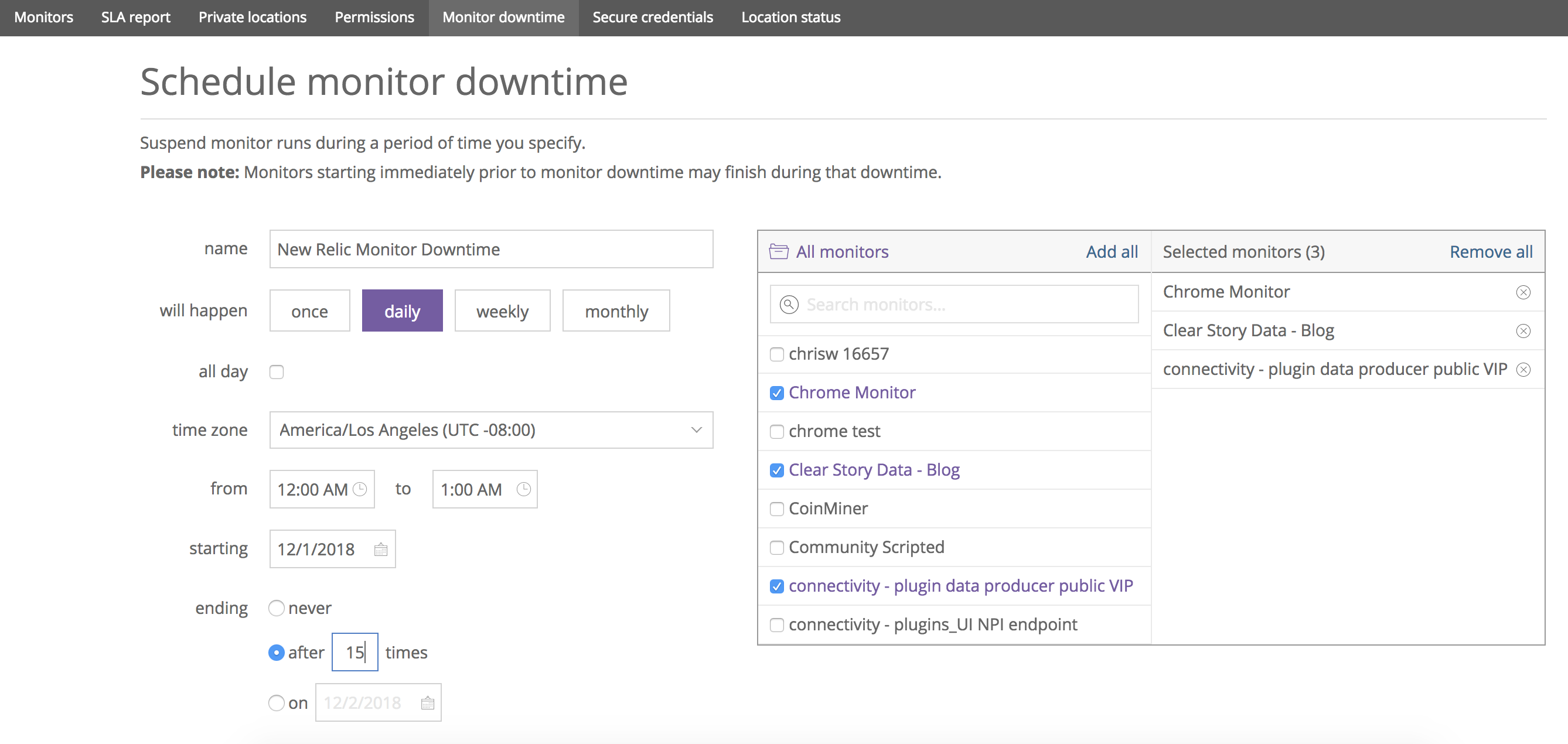 (setting up monitor downtime is easy, simply input your criteria for scheduled pausing of monitors)
(Your scheduled monitor downtime in action)
Great job by the Synthetics engineering team, who continues to pump out fantastic features!