Today New Relic is making the new infrastructure monitoring experience generally available to help DevOps, SRE, and IT Operations teams proactively identify and resolve issues in their public, private, and hybrid cloud infrastructure.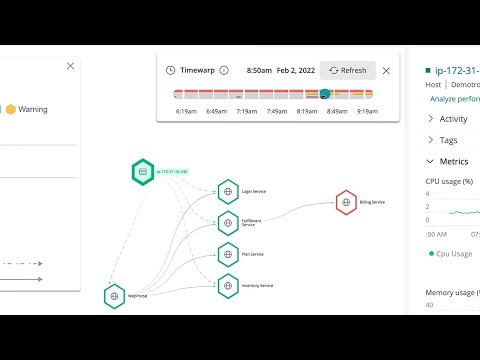 Get started now
Read below to learn more about our new New Relic infrastructure monitoring experience. Or, if you'd like to get going now, check out these links:
Unified visibility for all infrastructure components
New Relic infrastructure monitoring experience delivers usability and efficiency, with end-to-end platform context engineers can use to troubleshoot when issues arise.
New Relic infrastructure monitoring addresses some common problems operations engineers have with detecting, triaging, and troubleshooting infrastructure health issues. First, the sheer number of entities is increasing at an exponential rate with the rapid adoption of hybrid cloud, workload containerization, and the move to microservices-based architectures. Second, a large percentage of infrastructure is now ephemeral, which is unmanageable without sufficient change detection. Last, infrastructure isn't just ITOps' responsibility, infrastructure is now code that all engineers should be able to navigate to isolate infrastructure-specific performance bottlenecks. Our new experience helps you overcome these obstacles in several ways.
Detect issues before customers are impacted
The New Relic platform finds potential infrastructure issues before they affect your customers. Know exactly where to focus your attention with New Relic Lookout and gain faster incident resolution through automatically surfaced causes and effects. Dig deeper with correlations and abnormal history to see how it impacts your whole system—no configuration needed.
Use New Relic Lookout to navigate your entire estate to proactively spot emerging problems.
Pinpoint infrastructure bottlenecks
New Relic has modernized the infrastructure user interface with deep integration into the New Relic platform. With this new infrastructure monitoring interface, navigate tens of thousands of infrastructure entities to confirm and isolate probable bottlenecks by filtering and sorting based on golden signal conditions. Select multiple items to compare their golden metrics and understand how infrastructure items are related to applications and other connected architecture.
Filter the golden signals columns and then sort the results to bring potential issues to the top.
Quantify impact radius
Determine the impact of an incident by visualizing the up and downstream dependencies using automap. You can also analyze historical telemetry using timewarp to view health changes by going backward and forwards in time.
New Relic automap - display topology maps to troubleshoot incidents. Use timewarp to find what and when the issue occurred.
We use New Relic infrastructure monitoring to understand and optimize our infrastructure performance. New features of the enhanced interface are headed in the right direction. For example, with automap, we can see the impact radius of an issue, down to when it occurred and the applications impacted. I'm looking forward to it moving forward in the future.
-Vadim Loginov, Sr. SRE at The Rank Group
Investigate root cause of anomalies
Analyze related entities, logs, alerts, golden signals, network metrics, processes, and storage in context and in a unified experience to identify root cause and resolve issues faster.
Mouseover a host to show in-context logs and automap actions. Related components automatically highlight detailed metrics and severity.
When we troubleshoot our infrastructure, we want to focus on specific components. New Relic gives us the ability to quickly filter our environment using tags, golden metrics, and so much more. We're thrilled New Relic offers this level of functionality.
-Bob Damato, Sr. Director Software Engineering at Cox Automotive
Our customers rely on New Relic's industry-leading Kubernetes cluster explorer as well as Pixie for instant, no-code observability, in addition to our breadth of on-host integrations and integrations to cloud vendors like Amazon Web Services, Microsoft Azure, and Google's Cloud Platform help them achieve full-stack visibility.
Now, with our new infrastructure monitoring experience, we've doubled down on providing real-time troubleshooting workflows while incorporating broader platform context and unique topology visualizations into our user experience.
Try it out
Check out our new infrastructure monitoring experience and tell us what you think. New Relic full platform access users across all regions can start using it today without any additional cost. Find it in New Relic One within the main menu under Infrastructure > Hosts New.
If you're not already using New Relic One, sign up here to get a free account which includes 100 GB/month of free data and all New Relic One capabilities, including this new infrastructure monitoring experience.