We are seeing some inconsistencies in our app reports in New Relic. It seems like New Relic charts are showing a higher amount of app launches (aka sessions) for our Android app than in reality. That also results in the underreporting of the crash rate (crashes divided by sessions) which now looks ridiculously low.
This started to happen in the 1.8 version of our app launched in October. The data for our previous version (1.6.1) was correct.
First we thought we had introduced a defect in 1.8 ourselves, but when querying in Insights the amount of sessions the results seem to be correct. Please notice how in the screenshots below New Relic shows a huge increase in the amount of app launches since 1.8 was released, and in the Insights query results it shows that the overall amount of sessions did not experience any significant variation.
New Relic Data
URL: https://rpm.newrelic.com/accounts/786801/mobile/6733620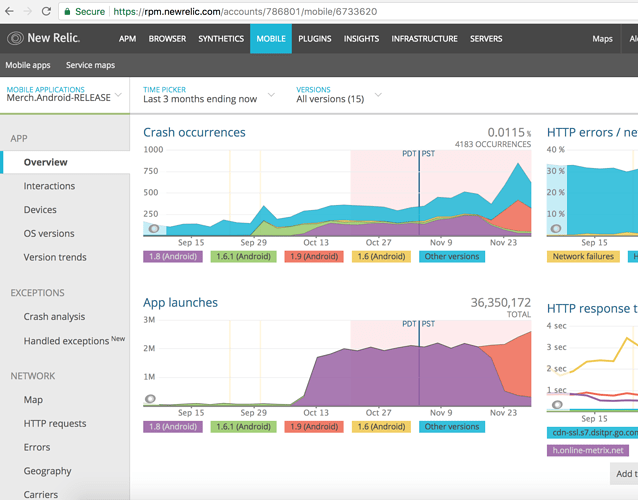 Insights Data
URL: https://insights.newrelic.com/accounts/786801/query?query=SELECT%20count(*)%20FROM%20MobileSession%20FACET%20appVersion%20WHERE%20appName%3D'Merch.Android-RELEASE'%20SINCE%203%20months%20ago%20WITH%20TIMEZONE%20'America%2FLos_Angeles'%20TIMESERIES%20