Section Three: About Your Use of the Online Technical Community
Data from the community tells us that the majority of Community members drop by to search for an answer, and potentially post a question. Very few of you are in the Community frequently to create, like, and share content. We wanted to better understand what actions you are taking, and what you need more of in our community.
Here's what you told us about our Community.
What would you like to see more of in the community?
Turns out, you want to see what we would characterize as more "official" content from New Relic. Tips and tricks, answers to your questions, and product engagement were the first, second, and fourth most requested kinds of content from respondents.
What does this mean?
When we first launched this community, the goal was to provide the technology to have New Relic questions publicly shared and answered by other customers AND New Relic staff. This has been the bulk of our work in the community to this point. We clearly have more work to do. Based on these responses, we think we need to work to get questions answered faster, and make sure those answers are clearly marked.
As the community continues to grow, we are seeing the community push into other interesting content areas like feature ideas, workarounds, wins, tips, tricks, contests, libraries, etc. We believe that in order to reach our goal of becoming the best community of practice we can be, we need to foster more types of transparent content—we need to be even more than a Q&A forum. We're excited to grow the community into these new directions.
For example, a recent success has been the Online Technical Community's new Level Up: Relic Solutions category. This is a space where Relics can post about interesting puzzles they solve and custom instrumentation tactics with context the community will find useful. This Level Up initiative ties in with our second most requested: more "questions and answers from the people that work at New Relic" (66%). This means that not only could this community be a successful space for support, but also a place of context where experts can share specific use cases and unique ideas.
How often do you do the following in the Online Technical Community?
As you all know there are many ways to engage in the Online Technical Community. Actions you can take include replying, posting, liking, and voting. This graph tells us about the action of searching through posts for answers and how often our customers do that. It appears that this action is happening monthly, weekly, even daily for some of you. However, the most common frequency of engagement for respondents is monthly, at 47.51%
What does this mean?
We have eyes in the community all the time. Though you might not be "engaging" in the Community more than monthly, you are reading a lot of posts and we consider that a huge success. "Having eyes" on our Community could mean that most of you come often, search for an issue or idea, read, and get your answer.
However, we have the opportunity for more engagement and awareness when it comes to all the actions a community member can perform. 65% of respondents have never posted an answer to a post. The health of our community depends on our users helping other users. We need our users to have more confidence in order to help out and share their successes. This is another example of why engagement is exactly what our strategies are focused on. Thanks to this data, we know now that we are right on track.
Did you fill out your profile?
Only 18.5% of respondents told us that they have filled out their Online Technical Community profile while the majority (60%) are unsure.
What does this mean?
We here on the Community team feel like we hang out with you everyday. We can pick your community avatar out of a crowd. Some of you are lovingly known around the team by only your @handle. We know and understand your needs, we hear all of your concerns and we love interacting with each and every one of you.
A full and detailed profile, to us, signals that you are willing to be known and make connections in the community. Your community profile can be your "resume" of New Relic skills. Our hope is that you will be accountable and excited by profiles reflecting the contributions you have made. Even if you want to keep it somewhat anonymous, twitter handles, pictures of your pets, funny avatars that make us laugh, are all a part of how we make the human connections that drive all communities. Complete profiles benefit the members of this community by also allowing you to identify with each other over similar roles, industry, background and interests.
We knew in our gut that users with full, filled-out profiles are more likely to be more engaged than people without. Our observation over the years is that there is a clear difference in behavior and engagement of the two groups. Let's look at the amount of engagement (posting helpful tips, bookmarking, upvoting, and liking) the group of people who did not fill out their profile do on a monthly or weekly cadence:
This shows that 45% of member without completed profiles take these actions about once a month. The combined totals for respondents who take action weekly is just 14%. None of these participants take any of these actions daily. In short: pretty low engagement.
Now let's look at the results of this 'actions per month' question for the respondents who did fill out their profiles: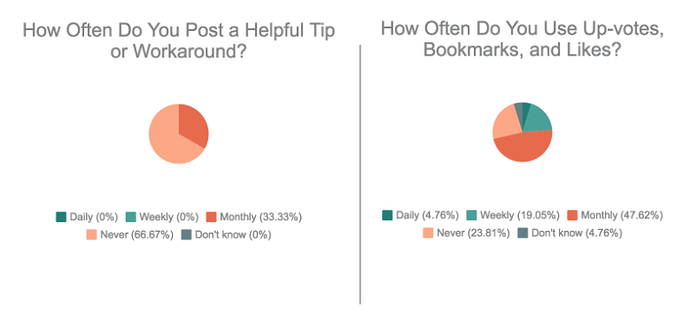 A whopping 80% of users who filled out their profiles are taking these actions monthly! We also see more weekly (19%) and even daily (5%) engagement happening among this group.
---
CustomerSurveyReport.pdf (812.6 KB)